The world loves you.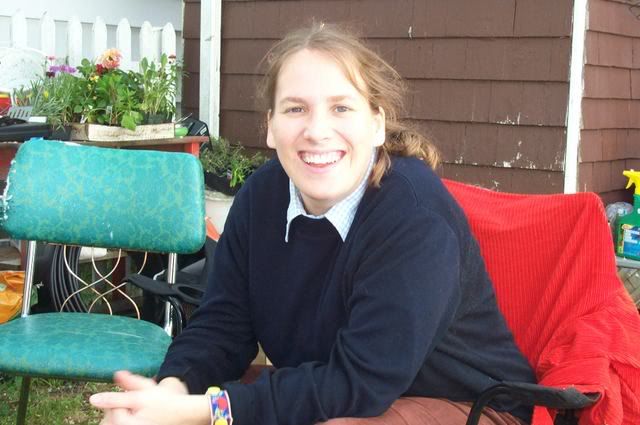 Helen, July 2004, visiting Halifax.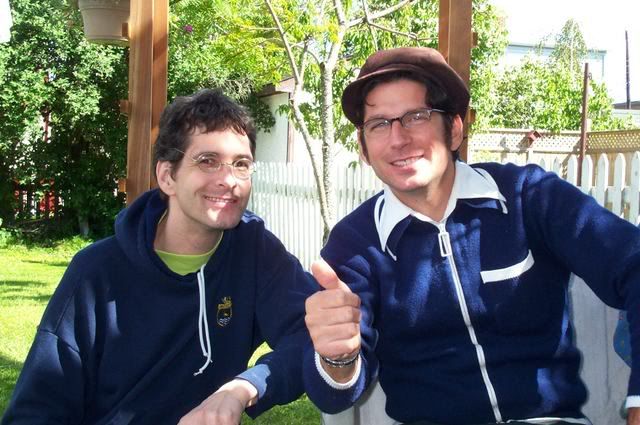 Jim and Paul trade specs, July 2004, Halifax.
In case you haven't seen it yet, the official Helen Hill tribute website is up.
Click here
.
The little super 8 clip, below, is one of only a few bits of Helen footage I have on-hand here in Korea. I apologize for the quality. I shot this in Calgary (May 1999), on a filmmaker trip there with Helen Hill, Helen Bredin, and Jim MacSwain from Halifax. I transferred it, along with all my super 8 stuff, very quickly and haphazardly the day we were packing up to leave Halifax, in Aug 2005. Sadly, it was also the day of Hurricane Katrina. The last phone call we got before our Halifax phone was disconnected, actually, was from Helen. Telling us not to worry, that they escaped the storm...
Anyway,
here's Helen Hill doing what she did (past tense still hard to say) best: making sure everyone's in the frame.
Here, she insists on filming me almost right off the bat, she tries to convince the reluctant Helen Bredin to turn around, and we manage to find Rick Doe's small film processing lab, which was the point of this particular excursion to Calgary's NE industrial park area. Helen made sure I was included in this trip to Calgary, as a filmmaker - my first of many amazing opportunities Helen gave me. I was still a student at NSCAD, having just completed her wonderful animation summer course, and I was also one of her downstairs flat neighbours.
Helen was just beginning her "Combustible Countdown" project, her mission to bring together recipes and stories of filmmakers who made hand-crafted cinema (which eventually became the book "Recipes for Disaster" and the short film, "Madame Winger Makes a Film"). Watching her go to the lengths she went to bring everyone together, like she's doing here (she's in the orange scarf) is the best inspiration.
And I can't believe I found this today - I put together some clips from our road trip to Phil Hoffman's Film Farm (June 2000) as a sort of going away tribute, when they left Halifax in December of 2000.
Some links
From the New York Times (thanks, James):
click
From CBC:
click
(realaudio links on the top, and intro text is on this page, too - scroll about 1/2 way down)
click
(Nova Scotia-based story)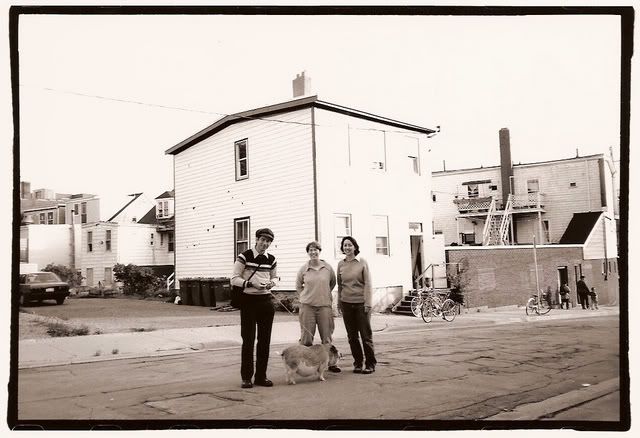 September 18, 2000. Paul, Helen, me, and Rosie in front of our home at 5515 Falkland Street, Halifax, NS. Photo by John Porter. See more of his beautiful images of Helen at his site,
Super8Porter
.
We are still trying to put our grief into whatever constructive, positive plans are in the works. They're so much in the hearts of so many, so the energy to organize and collectively remember feels frenetic, especially at the edges of the action, which is where we are. We're trying to get in touch with as many people as we can and we really need to be part of what's going on right now. We're awake at the wrong times, and all of our contributable photos and notes and everything is locked up 13 timezones away. We can't express how sorry we are to not be able to be closer to anyone right now. Waking up after getting a few hours' rest made the cycle of grief start all over again. I know this is a lot to ask, but if you're one of our friends who has been asking us if there's anything you can do for us (which just feels so ridiculous since we know as well as anyone that we are so, so far from being the only ones grieving)... the only thing I can think of is to please, please just keep in touch with us. I really can't stand being here right now and communication's all I got.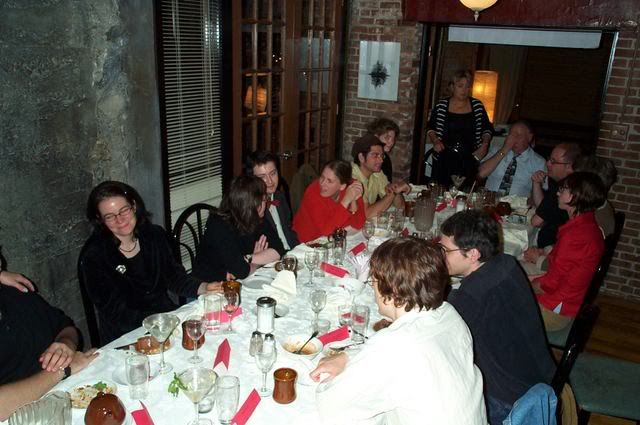 Paul and Helen and Kenny and Katrina and Rod and Dan and Lisa and James and my Mom and my Dad and Ali and Siloen and wow, we're just missing everyone right now.
Update: just saw this
Daily News
article. It was about 2am here when I talked with the reporter, and obviously, I was pretty out of it.