Trip Diary: Yvon (pt. 2), Michelle, and The Gong Show
July 31st, 4pm:
Showered and fed, Jim and I have taken the two-hour subway journey back into Seoul. We've met up once more with Yvon, and he's showing us more of the city - Insa-dong (full of little shops that run the gamut from tacky trinket to high-end traditional craft), Namsan Market (otherwise known as guitar heaven), Itaewon (the foreigner section, which felt like downtown Toronto to me). Somewhere between Insa-dong and guitar heaven is one of Seoul's many busy Buddhist temples:
Jim and Yvon contemplate going in:
8:30pm:
We're finishing a huge, amazing Indian dinner in Itaewon (Chhakra, where I've since found out Mandy'd eaten a few times years ago), and we're about to take a super speedy cab ride back to Hongdae, giving us another cross-section view of the city. About 8 million people live here.
9:30pm:
Yvon and Jim pack up a couple of Yvon's guitars. We're heading over to the Club Palm, where Yvon hosts a weekly Open Stage. Among other tunes, Yvon plays "Sonny's Dream" for the Korean audience. Then Jim introduces another song from the east coast of Canada, also about staying and leaving. Then he plays his version of "Long Lake".
The Club Palm was originally conceived three years ago as a jazz club. The owner, Mr. Gong, we're told, also plays and sings. After a lot of cajoling, we get the very shy Mr. Gong onto the stage. He delivers "I Started a Joke" with the most melancholic croon this side of Roy Orbison. It's amazing. Later on, he'll come sit with us and talk about his youth in the early 70s, and try and impress upon us just how much change folks from his generation in Korea have had to adapt to all their lives. Most of his friends have moved to Canada in the last five years, he'll tell us.
It's also difficult to convince Michelle to play. She's an exceptionally skilled pianist; she teaches, too. But it takes a lot of energy from the audience before she'll get up.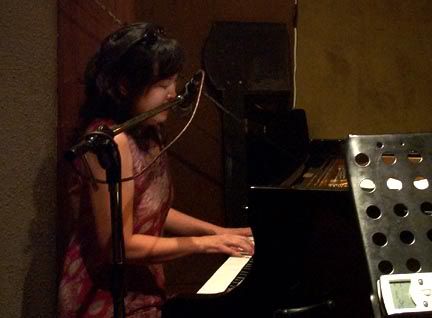 This is our last evening with Yvon and Michelle on this trip, but we're already making plans to go back.