Trip Diary: Pablo, Betty, and Gwangali
August 1st, 9:30am:
We'd said our good-byes to Yvon and Michelle last night, so we successfully avoid waking them up to leave. We hurry past the VERY LOUD cicadas in the park, and grab the subway toward the Seoul Museum of Art. We manage to meet our friend Betty (and her friends) just in time for the museum to open. We're certainly not alone, either - the line up for tickets to the Picasso show is quite long, and dozens upon dozens of folks are milling about, waiting for the building to open for the day.
As we wander through the exhibition (whose curatorial premise is simply "the women in Picasso's life"), we're nearly trampled by about 75 people following a museum tour guide. This is the first time a show including many of Picasso's original paintings has come to South Korea, so it's a pretty big deal, indeed.
Many kids, like our own students, are on a short holiday from the private English academies they attend. That doesn't mean they get a break from learning, though. We see a few kids wandering around with English-language homework assignments, asking them questions about the show. A few kids actually use this show as an opportunity to sketch on their own, too.
These little girls remind me of many older/younger sister sets, including myself and my sister. The older sister painstakingly copies the portrait of Jacqueline Roque, scrutinizing every last mark she makes on her page, while the younger sister draws a lemon-coloured teddy bear and makes absolutely no reference to what she's seeing on the wall.
The show takes up most of the entire museum. In between rooms, we take a closer look at a gigantic film/lightbox installation in the centre of the museum. It's by a relatively young Korean artist, whose name I am still looking for in my notes. I am a little perturbed that the museum doesn't turn the lightbox on to properly display the piece.
Finally, we make our way back down to the large, central, entryway, where a piece by Paik Nam June (백남즌) is permanently installed. Very few people stop to watch this flashy piece. Instead, they're lined up on the opposite wall to get a picture taken with the 14-foot tall poster for the Picasso show.
We realize it's taken us almost three hours to view the entire exhibition, and Jim and I say hasty good-byes before running to catch our train to Busan. We make it in time, though we miss our opportunity for lunch. No matter. At an average of about 275 kph, the KTX train will get us to the other end of the country in less than three hours!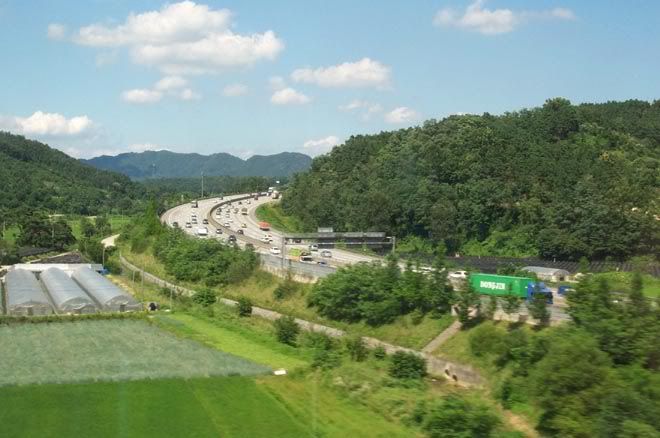 We relax and marvel at the countryside inbetween naps all the way down to the southern coast of the Korean peninsula.
Sweaty, starving, and weighed down by heavy knapsacks, we make our way to Gwangali Beach for supper. We watch the sky go pastel on us as we have one last western-style supper, a couple beer, and a listen to the beach-inspired American 60s tunes blasting from the beachfront PA across the street.
8:15pm
We're on a bus about to depart from Haeundae Beach (just a few subway stops north of Gwangali where we had supper). We're full, sleepy, travel-weary, and blissed out. Our bus driver take curvy roads at 110 kph and plays a 노래방 sort of cassette which is mostly pan flute interpretations of 70s and 80s English-language hits. I realize that for the first time, I've taken a vacation that isn't linked to a work-type of event. Also, we've managed to stay on budget without constant obsessing over it - also a first. The bus drops us off one block from our apartment, where we sleep like logs and imagine future trips.